Specialty and Ancillary Services
Specialty and ancillary services — such as dental and vision benefits — can enhance your benefit package and make your organization a more attractive place to work. Many employers find adding one or more components to their benefits offering helps them stand out in the market, making it easier to recruit and retain top talent.
We can provide guidance that can help turn a suite of products into better employee health, satisfaction, and retention — and the potential for bottom-line savings.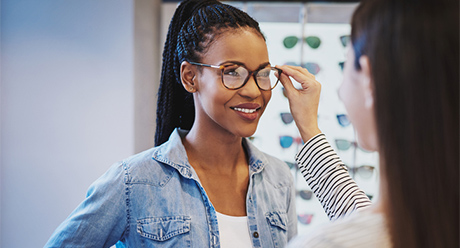 Pharmacy
Effective pharmacy benefit management — when coupled with a medical plan — can help improve population health and achieve significant cost savings.
Dental
Good oral health can help improve overall health — and potentially lower your health care costs.1 Through United Concordia, we offer dental plans that combine affordability with flexibility and access to one of the nation's largest dental provider networks.2 Choose the plan that works best for your population.
Vision
We offer vision care coverage through Davis Vision, a leader in vision care solutions. Davis Vision provides access to a national provider network with an emphasis on value, high quality, and choice.3
Tax-advantaged spending accounts
Add value — and potential tax savings — to your health benefits plan by offering health savings accounts or flexible spending accounts for qualified medical, dependent care, or parking and transit expenses. Tax-advantaged accounts are available to organizations that have a self-funded health plan administered by Independence Administrators.4
Stop Loss
Stop Loss coverage helps protect against high-dollar claims, helping you mitigate your risk. And our preferred arrangement integrates with your self-funded health plan.5
Employee Assistance Program (EAP)
Uprise Health helps plan members and their families cope with challenges of everyday life and more serious issues. It's also an excellent resource for your management and HR staff when they need guidance for handling difficult workplace situations.6
1 "Oral health: A window to your overall health," accessed on October 5, 2016.
2 Dental products are offered by United Concordia, an independent company. United Concordia does not offer Blue Cross and/or Blue Shield products or services. United Concordia is solely responsible for the dental products.
3 Vision program administered by Davis Vision, an independent company.
4 HealthEquity, an independent company, provides Health Savings Account administrative services for Independence Administrators. Investments available to HSA holders are subject to risk, including the possible loss of the principal invested and are not FDIC insured or guaranteed by HealthEquity. HSA holders making investments should review the applicable fund's prospectus. HealthEquity does not provide tax, legal, financial or medical advice.
5 Coverage is underwritten by HM Life Insurance Company, Pittsburgh, PA, or Highmark Casualty Insurance Company, Pittsburgh, PA, under policy form series HL601 in all states except New York. In New York, coverage is underwritten by HM Life Insurance Company of New York, New York, NY, under policy form series HL601. The coverage or service requested may not be available in all states.
6 Integrated Behavioral Health provides Employee Assistance Program services to Independence Administrators.
7 Identity theft insurance is underwritten by insurance company subsidiaries or affiliates of American International Group, Inc. The description herein is a summary and intended for informational purposes only and does not include all terms, conditions, and exclusions of the policies described. Please refer to the actual policies for terms, conditions, and exclusions of coverage. Coverage may not be available in all jurisdictions.
Due to New York state law restrictions, the product guarantee cannot be offered to residents of New York. ©2014 Experian Information Solutions, Inc. All rights reserved. Experian and the marks used herein are service marks or registered trademarks of Experian Information Solutions, Inc. Other product and company names mentioned herein may be the trademarks of their respective owners.
How Can We Help You?
Looking to learn more about how Independence Administrators can help turn the new health care landscape into your competitive advantage? We can help.
Contact Us
Global CoreTM Plans from GeoBlue®
GeoBlue, a leader and innovator in international health care, offers health plans for travelers and expatriates. Features include high-quality care from an international provider community, concierge-style service, and state-of-the-art mobile technology.
Individual and Family Plans
The Voyager Plan — a single-trip plan with coverage up to 180 days. The plan includes coverage for accidents and sickness.
Multi-trip
The Trekker Plan — a multi-trip plan that allows for unlimited trips throughout the year with a maximum of 70 days of coverage for each trip. Accidents and sickness are covered.
Expat plans
Designed to support people who travel for extended periods of business, leisure, or study.
Business Group Plans
Blue Cross Global Expat
Designed for employees and their families who live internationally for six months or more, Blue Cross Global Expat combines comprehensive global benefits with new generation medical assistance services.
Blue Cross Global Traveler
Supplemental medical benefits and services designed for international business travelers on trips lasting up to 180 days outside their home country.
Ask for a Quote
GeoBlue is a trade name of Worldwide Insurance Services, LLC, an independent licensee of the Blue Cross and Blue Shield Association. GeoBlue plans are underwritten by 4 Ever Life Insurance Company. 4 Ever Life Insurance Company is an independent licensee of the Blue Cross and Blue Shield Association.
Supplemental Insurance
It's impossible to predict every event in life, but you can help prepare for the unexpected. By teaming with The Guardian Life Insurance Company of America, we offer you access to specialty insurance products — ranging from life to cancer insurance — which can be a value-add to your health plan.8
Disability
Nearly 1 in 4 of today's 20-year-olds will become disabled before reaching age 67.9 Disability insurance helps protect your members from the financial fallout of being unable to work due to illness or injury.
Life
Life is full of uncertainty. Life insurance can help give a degree of financial security to your plan members and their beneficiaries.
Accident and critical illness
Covered members receive a benefit payment or lump-sum payout during their recovery from a covered accident or critical illness diagnosis, such as cancer, heart attack, or stroke.
Hospital Indemnity
Help your employees reduce their out-of-pocket costs when an illness or injury leads to the hospital.
8 Products listed are offered by the Guardian Life Insurance Company of America, an independent company, who is solely responsible. These are not Blue Cross or Blue Shield products. Guardian is a separate company from Independence Administrators and these are not Independence Administrators products.
Insurance products are underwritten and issued by The Guardian Life Insurance Company of America, New York, NY. Some products may not be available in all states. Policy limitations and exclusions apply. Optional riders and/or features may incur additional costs. Documents are the final arbiter of coverage. GUARDIAN® and the GUARDIAN G® Logo are registered service marks of The Guardian Life Insurance Company of America ("Guardian") and are used with express permission. The Guardian Life Insurance Company of America, 7 Hanover Square, New York, NY 10004.
9 U.S. Social Security Administration, Fact Sheet December, 2015, accessed on October 6, 2016.